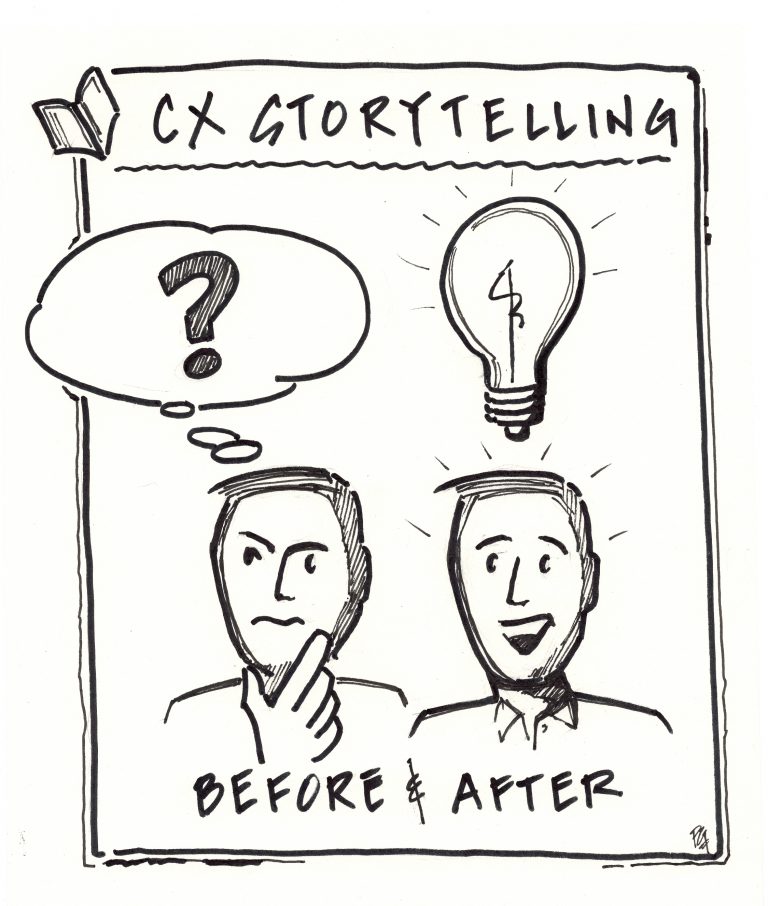 Don't you wish you could be a fly on the wall after one of your presentations? It's common after a presentation that people will tell you, "Nice job" or "Good stuff." But what did they really think? Did they find it valuable? More importantly, did you have the desired impact to effectively transform the way they think and the way they act?
In earlier blogs on CX Storytelling, I focused bringing the right attitude, profiling your audience, and considering the context of your presentation. The next step is one of the most important in planning your message – deciding in advance how you want to transform the thoughts and actions of your audience.
This concept isn't really new. In fact, the idea to begin with the end in mind is a leadership trait made popular by the late Steve Covey in his book The 7 Habits of Highly Effective People. It makes perfect sense. After all, if you can picture the outcome, you can begin planning to make it happen. The same principle applies to CX leaders who are preparing for a presentation.
A useful tool for planning your message
Several years ago, I was preparing for a conference presentation when I was introduced to a simple and useful exercise from the book Advanced Presentations by Design, by Andrew Abela. It challenges the presenter by considering two key transformations:
THINK – How will your presentation transform the audience in the way they think?
DO – How will your presentation transform the audience in the way they do?
For both of these questions, you are to consider your audience as they enter and leave your presentation. How should they change? How should they think differently? What should they do differently?
To document this, draw a line down the center of a piece of paper and write, "FROM" at the top on the left and write "TO" at the top on the right. Then consider the transformation you desire. For the presentation I was planning I listed 19 potential transformations. Here are just a few:
FROM I'm not sure where we stand —– TO I know exactly what we need to do
FROM I can't control this issue —– TO There are some things I can do to influence the issue
FROM I just deliver customer reports —– TO I need to hold people accountable for action
FROM This is my job —– TO This is how I add value
FROM Our executives aren't interested —- TO I need to work at getting them involved
Using this method really helped me consider the best way to develop my message and structure a presentation focused on specific objectives.
I think one of the most valuable concepts of the exercise was to think about the before and after effect. For CX leaders we're often in a position of delivering a message that people may not want to hear. The message may be that we need to change the way we do something, fix a problem, or add more to everyone's workload. By considering their current thoughts and behaviors, it helps you evaluate what you need to do to get them to a new place – the desired place for thought and action.
"Think – Do" forms are available on page 6 and 7 of this downloadable Storytelling workbook for CX leaders.
So much rides on each presentation you deliver. Take the time to think about how you want to transform the thoughts and actions of your audience.