Customer experience is currently a great industry to be a part of. Why? Executives are increasingly pointing to customer experience as the primary way they intend to differentiate in the marketplace. Like never before, CX leaders are in demand.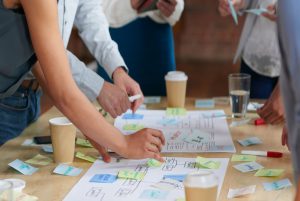 That said, it is important for CX professionals to stay aligned to executive needs and to speak their language. A great tool that garners attention from executives is Journey Mapping. Journey mapping is not new and has enjoyed quite a lot of attention for several years. And for good reason, as its value has really stood the test of time. Companies who have invested in this tool have been able to bring CX to life in a way that traditional surveys have not.
Executives like journey maps because journey maps align with their organizational needs:
Journey maps deliver concrete actions. A common challenge we hear about at Walker is that it is difficult to drive change by using traditional surveys. And, if you cannot drive change, how can you demonstrate a business outcome to your executive team? Journey maps, on the other hand, illuminate customer experience in a way that makes it clear for organizations to see what needs to be fixed. When we conduct journey mapping working sessions, it's not unusual for us to have participants walk out of the session with a clear idea of what needs to be fixed to improve the customer experience. Executives appreciate the tangible actions that are derived process, and journey maps put CX leaders in a great position to quantify the impact of customer experience improvements.
Journey maps help drive innovation. Want to hear about a great way to put a CX journey map to use? Use current customer needs to work with employees and customers to co-create in building an ideal future experience. Companies we work with have found value in using their journey maps to facilitate focus groups and ideation sessions all with an eye to the future. This can't be done, however, until you have a good grasp on understanding current needs.
Journey maps engage employees. Assembling a journey map is a highly collaborative process and requires employees to come together and put themselves in the shoes of customers. What a great way to build empathy for the customer experience. Companies we work with will often say, "I can't believe how much fun it working together and talking about CX" or "I can't believe how much benefit we got from working cross-functionally" or "I had no idea how my colleagues in other departments work with customers."
With benefits like these, what are you waiting for? If you have never done a journey map before, think about how you might apply a journey map to your business objectives. Or, think about how you might refresh a previous journey map. It's a great way to build executive interest in your CX programs.